Edited Thread Material 070703 Migrated From Old Site:
Pathfinder: The Legend Of The Ghost Warrior
[2007] Score:
7.5
http://www.imdb.com/title/tt0446013/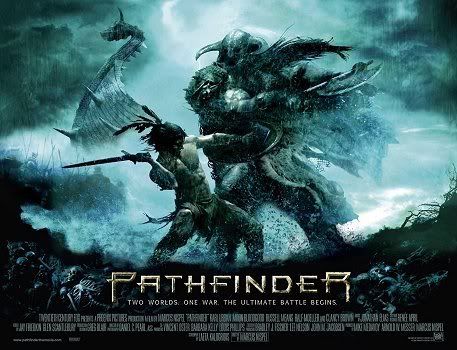 Summary:
Nominally a story about Viking marauders sacking native American Indian villages along the coast of the Atlantic northeast. On the slim historical archeologic truth of this, this fanciful fiction spins a tale of a young Viking boy, sole survivor of his clan's shipwreck, being marooned and raised by indians. Upon adulthood, the adopted norseman must confront his former people in defense of Indian villagers when new raiding parties come to slaughter and pillage. A good looking daughter of a local shaman, or
pathfinder
, adds a love interest. The whole time I was watching this I couldn't help but think that I was looking at something inspired by the art of
Frank Frazetta
. Lots of sinewy action with blood and guts. The bad guys were all rather non-descript armor clad figures in basic black, who groan and grunt along swinging large swords and axes. If someone would have told me they were
Klingons
I would have believed it; while visually stunning, they were absolutely two dimensional. Their leaders too, were cardboard cutouts of villianous caricatures well established in moviedom. Their dialogue is so limited I'm sure their script was only two pages long. In the end, even though their weapons and armor outclassed the locals, good old indian smarts and being in tune with the land outwits the dragon boat invaders. Overall? Thin story but great action if you like the medieval type slashfest.
Audio is English and Norwegian
Werewolf Of London
[1935] Score:
6.5
http://www.imdb.com/title/tt0027194/
Summary:
The first Hollywood Werewolf movie, with
Henry Hull
and
Warner Oland
, is not as famous as subsequent ones played by
Lon Chaney
. It was also derided as being a copycat of
Dr. Jekyll and Mr. Hyde
[1932], and ultimately it was a box office failure. However, in terms of movie art, it was considered ground breaking and imaginative. The story of an avid botonist that travels to Tibet to retrieve a unique flowering plant that blooms only in moonlight, where he is set upon and bitten by a werewolf, thus becoming a werewolf himself. Remarkably, the "Tibetan" villagers all seem to speak Cantonese Chinese, and a few Latin phrases by the star makes the movie seem worldly; well maybe back in 1935. In any case, it appears that the only thing able to stop a lycanthropic transformation is an extract from a bloomed Tibetan Mariphasa plant. Unbeknownst to the botonist, played by
Henry Hull
, who retrieves a plant and returns home to London, is that the werewolf who originally bit him, in human guise, follows him home with hopes of stealing the Mariphasa once it blooms. The part of the first Werewolf is played by
Warner Oland
, which vintage movie fans will immediately recognize as the star of all those old
Charlie Chan
movies. In the end, after his exotic plant is stolen and the botonist winds up killing several people, he confronts and kills the first werewolf. After trying to attack his own wife, the transformed botonist is in turn killed by an Inspector from Scotland Yard, who he thanks just before dying. Using time lapse photography, the transformation undoes itself. Not much in terms of today's CGI, but back then it must have looked fantastic to viewers.
Audio is English, Cantonese Chinese masquerading as Tibetan, and a few Latin Phrases
功夫無敵 Kung Fu Fighter
[2007] Score:
5.1
http://global.yesasia.com/en/PrdDept.as ... 004845730/
Summary:
When you take a pretty boy singer dancer and try to make a
Kung Fu Fighter
out of him, you're bound for a disappointment. Despite
吳建豪 Vanness Wu
's success both in and out of popular Taiwanese boy singing group,
F4
, with television dramas and appearances in various music venues; one has to wonder why he would try to make a leap into the kung fu arena. While teen girls and young women may gush and squeal when they see him, he certainly isn't any notable in the martial arts media world. In fact, he's pretty much a nobody even with two other macho type movies under his belt (Dragon Squad [2005] & Star Runner [2003]). Also, the inclusion of some actors billed as former supporting cast members from
Kung Fu Hustle
[2004] did not lend success, but instead highlighted the glaring differences between that mega hit and this wannabe lightweight. Venerable fat guy sidekick
林子聰 Lam Chi Chung
, is wasting his time in this and it shows. The inclusion of the nightclub singer potential romantic interest, played by HK Canto-pop singer
黃伊汶 Emme Wong Yee-Man
, was nothing more than a blatant attempt at attractive name dropping. Her part does little in terms of story advancement. Fight scenes were standard kung fu movie fare, not overly impressive but acceptable, with a few superhuman feats that were a part of the story line. What I do give the producers props for is the props, sets and costumes. They were exceptionally convincing and evocative of China circa 1930's. Bottom line? I found myself waiting for
周星馳 Stephen Chow
to finally appear and save the day. But of course, he's not in this one.
Audio is Cantonese Chinese
Red Mercury
[2005] Score:
7.3
http://www.imdb.com/title/tt0443619/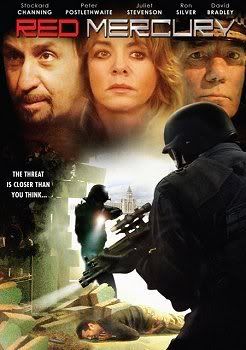 Summary:
Red Mercury
was reportedly a scientific hoax first used by Russian secret police as bait for potential black market buyers of nuclear weapons material. Stories planted in tech journals described ways of using "red mercury" as a substitute to bypass the need for much harder to obtain fissionable material. In this movie, British military intelligence uses such a scam to entice terrorists. Three local disaffected would be Jihadis attempt to build a radioactive dirty bomb for their muslim brethren. As police close in, they dash into a London eatery and take hostages. Trapped, they attempt to complete the bomb while London police try to limit what they believe was a hostage crisis in this modern take on
Dog Day Afternoon
[1975]. Eventually the hostages and hostage takers find out that perceptions of one another are not what they first believed. As the hostages realize that the terror cell is planning to blow up a bomb, they start to take matters into their own hands. Not a bad story, but a bit drawn out. A total sidebar tale of a negotiator's troublesome daughter was a tiresome distraction that should have been left on the cutting room floor.
Audio is English
Citizen X
[1995] Score:
9.4
http://www.imdb.com/title/tt0112681/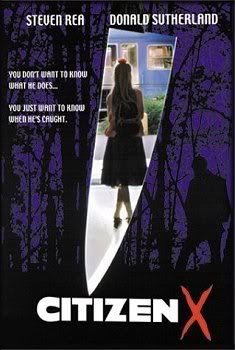 Summary:
The made for television movie opens with a series of bodies delivered to a coroner; he catalogues the killer's preference at sexual mutilation and multiple stab wounds. Based on a truely chilling account of Russian serial killer,
Andrei Chikatilo
aka the
Rostov Ripper
as he was called in the press, who ultimately confessed to killing 56 women, girls and boys over a 12 year span. Sexually dysfunctional unless he was in a savage rage, he was actually questioned several times but because of police ineptitude, let go. A controversy to this day exists over a scientifically anomalous lab result
(that originally freed the killer)
that many suspect was really just a cover up for mistakes from slipshod crime lab management. Further complications existed at the time as it was then politically impossible in the USSR to tell the public that a serial killer was on the loose. Bureaucratic hurdles hamper police and afford the killer a free reign. Notably, it was the first use of a psychiatrist in Russian history to assist in solving the case. This movie's title,
Citizen X
, was actually the file name of the killer's psychological profile report. The first depiction of the killer going about his gruesome work is frightening indeed. A man convinces a young girl to take a walk into the woods with him, which ultimately ends with his plunging of a long blade repeatedly (15 times) into her. Though brief, the scene actually included visualization of a long knife clearly going into the tiny victim's chest; remarkable unto itself as this was shown on US television. As it progresses, you can't help but become angry at the Soviet system of foot dragging and it's selfserving bureaucracy; you feel tremendous sympathy and admiration for the doggedness and persistence of
Viktor Burakov
, the young coroner assigned to investigate the unsolved cases. After the social revelations of glasnost, needed men and material are further dedicated to solving this case. They finally and successfully set a trap for the killer. The movie ends with his execution by a pistol shot to the back of the head. I had to keep telling myself that this was a
made for television movie
; it was remarkable in it's telling with absolutely superb acting.
Audio is English
渦巻 Uzumaki
[2000] aka
Vortex
Score:
7.1
http://www.imdb.com/title/tt0244870/

[1] [2]
[1] Trailer in Japanese audio and English hard subs
[2] Fan created music video with scenes from the movie
Summary:
Well known and imaginative Japanese manga series by
伊藤潤二 Junji Itō
that was fleshed out into a wonderfully bizarre horror film, fairly faithful (except for the ending) with the only fault being that many interesting story parts were edited out in the final cut. The entire film is shot with a pale green filtration, mimicking the color cast of the manga magazine original plates.
Kirie Goshima
(played by Eriko Hatsune)
, is a high school girl from a small quiet town; so quiet that at times it resembles a ghost town. One day, things begin to change when the father of her boyfriend is noted to have developed an obsession with things that spiral. As the obessions deepens it ultimately results in his macabre demise
(twisted into a spiral within a washing machine)
. Over time, increasing numbers become afflicted with this spiral disease, succumbing to grisly rotational examples of anatomically impossible contortions. In the finale, cornered by her boyfriend who had become literally a twisted evil fiend that insists she join the spiral too; the scene closes as he pounces on her.
Audio is Japanese
血恋 Xue Lian
[1995] aka
Trilogy Of Lust
Score:
5.5
http://www.imdb.com/title/tt0121898/

Summary:
For those that don't know, the obscenity and morality laws in Hong Kong dictate and define the level of nudity that public movies can show, and then label them according to their category to let the public know what to expect. The mildest of these being category (or "Cat") one, similar to a General Audience (G) rating in the US, with the most daring being a Cat three, or the equivalent of a strong US Restricted (R) rating. At no time was pornography ever actually legal in Hong Kong; clear frontal shots of genitalia were also taboo even under British rule. Hence, HK directors of erotic films, aka "Cat 3" became extremely creative with action that simulated sex. In addition to the usual bump or grind of gyrating hips, they used rigid phallic shaped shadows, or block the viewer from seeing anything with flowerpots, furniture, or body parts, along with enough fake moans and groans that would do a hooker proud. Which is why
Trilogy Of Lust
is so amazing. The producers of this film apparently saw little need to hide any action as this is outright porn. Clear and graphic displays of erections, coitus, and fellatio are on screen and not just one of those cheap
if you blink you'll miss it
shots. Aside from the actual porn, the various actions of the, er... actresses, was fairly erotic in it's own right. In one scene, the main star thinks of sex and she begins to fondle an eel (lucky eel); in another, after watching you may never think of eggs in quite the same way again. I suspect that this movie was produced only for foreign market distribution as the copy that I saw was over-dubbed in German. Story of a lonely fish farmer who's mother takes pity on; she goes and buys him a woman from China. A bedroom novice, the woman doesn't really attract him as he's used to going with experienced pros. Over time, he attempts to teach her the finer points of human conjugation, even hiring a hooker to perform with him while she sat and took written notes. Once a prude, she discovers a young and handsome gardener who unlocks her passion and desires. Their adultery discovered by the fish monger and his mother, the young lovers kill them and go on the run. Knowing that they will be caught and put to death, they don traditional Chinese wedding clothes, have one more bout of wild sex before throwing themselves off a cliff and dying as man and wife. In terms of film making, the story is so-so; in terms of porn, the action is so-so; but in terms of being produced in HK as a Cat3 title, it's historic as well as illegal.
Audio is German
Note: If anyone finds a copy actually in Chinese audio, please let me know.
Day Of The Dead 2: Contagium
[2005] Score:
1.5
http://www.imdb.com/title/tt0411269/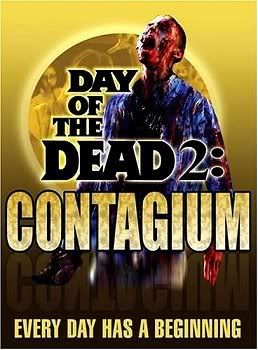 Summary:
Taurus Entertainment's cheap and sleazy low budget rip-off of
George Romero
. Zombie fans have waited two decades for a sequel to the original
Day Of The Dead
[1985]. Taurus had since acquired the rights to that original movie, including it's title. So when
Romero
finally released his latest movie and called it
Land Of The Dead
[2005], Taurus at the same time released
Day Of The Dead 2: Contagium
[2005], hoping to cash in on fan confusion. However, this one is clearly lackluster, without effort, and thankfully has absolutely no
Romero
involvment. The entire movie is far removed from what has come to be widely accepted as zombie lore. The zombification process here instead begins with the inadvertant release of an unknown government substance. Zombies in this one can either move quick or slow, and they remain cognitive, trading insults with one another. Moreover, they also seem to have developed a hive mind as they collectively hear and feel what other zombies do. Some copiously ooze black schmutz from their mouths while others slough off dead skin. If the violation of zombie lore wasn't bad enough, the performances by this ensemble resembles a class project for acting 101, ie. it's very, very bad. Put this turd back in the potty and close the lid.
Audio is English
Glory
[1989] Score:
8.7
http://www.imdb.com/title/tt0097441/

[1] [2]
[1] Fan created trailer
[2] Fan created trailer with bits of history and scenes from the movie
Summary:
US history that is little mentioned; several military units made exclusively from black freeman, freed slaves and runaway slaves were formed to fight for the Union side during the American Civil War. The first and the most famous of these was the
54th Massachusetts Volunteer Infantry Regiment
. Though President Abraham Lincoln had announced the
Emanicpation Proclamation
, racism remained rampant and widespread, even in the north. Popular and conventional opinion of "colored" people
(ie. as those of African descent were then known)
was that they were inherently inferior and lacked ability for order and discipline that a military unit would require. A 26 year old abolitionist named
Robert Gould Shaw
, is assigned as the commander of this regiment, who goes about training them and ensuring that they get the supplies they need to fight. But despite their training, soldiers in these colored units were consigned only for use as manual laborers. After intense lobbying by
Shaw
the 54th finally gets their chance. They lead the historic assault on Fort Wagner (aka Battery Wagner), a stronghold guarding the approaches of Charleston, an important city for the Confederacy. Even though they sustained heavy losses and ultimately failed to win their objective, the regiment clearly performed with courage, honor, and distinction. This battle provided a huge political victory for the north as it demostrated to the entire nation that colored people were just as capable as whites. Afterwards, thousand of blacks from all walks joined the Union army, swelling the north's ranks. One historic action omitted by the film was the story of
Sergeant William Carney
, a colored soldier who's bravery during that battle won him the Congressional Medal Of Honor, being the first black soldier to do so.
Denzel Washington
is already well known as an exceptional actor, and he puts in one of his most memorable performances here. The corporal punishment scene is absolutely incredible; it was probably the finest piece of acting I've ever seen.
Audio is English
If anyone has seen these films too, or just want to talk about them; please add your comments.